The global sourcing community is obsessed with new technology and hacking. When you read agendas of recruitment conferences sometimes you might be confused and wondering if you're not actually at a tech or IT security conference. It's blasted from everywhere: Artificial Intelligence (AI), Virtual Reality (VR), Chatbots, Natural Language Processing, Neural Networks, Internet of Things (IoT), Deep Learning, and tons more.
Sourcers can use loads of plugins and 3rd party tools for automation, scraping, telephone number spoofing and now actually even faking your own voice and face. Creepy, right?
As a former software engineer I might be a bit biased but don't get me wrong. I think being obsessed by technology and innovation is actually a good thing! But as a recruitment entrepreneur, I say don't get overwhelmed by that and focus on things you can really influence in your daily recruitment routine.
Anyway, what is new in the emerging tech space? And how to apply it in talent sourcing?
Speech-To-Text Progress
Google Cloud Speech-To-Text is a technology which can transform a spoken voice into text form. It supports 120 languages so probably even yours and the latest update promises improvement in accuracy by 64%. Even before this update we were able to reach 94% accuracy which means that only 6% of the text was somehow misspelled.
How to utilize this in recruitment? Imagine you have a call with a candidate based on her brief LinkedIn profile. You can save the call into your ATS where it can be converted into text form. This means that if your candidate mentioned JavaScript, Nginx or a term "corporate banking" on the phone, any other recruiter from your company can easily find her by using keyword search in your ATS database.
Artificial Intelligence & Natural Language Processing
You probably know or experienced Facebook Messenger chatbots even in recruitment. There are already some successful applications of this. Nevertheless, it has almost nothing to do with AI (Artificial Intelligence). Basically all of those chatbots are based on so-called decision maps.
With Dialogflow we can actually put some more sophisticated logic into chatbots. Imagine a candidate saying the following sentence to your chatbot: "I would like to work in New York for $90 000." Dialogflow can disassemble this sentence into so-called intents (New York = city, 90 000 = amount, $ = USD currency, work = action job) which can actually help your chatbot understand to some extent what the person really wants.
This will help create much better chatbot experiences.
Neural Networks & Deep Learning
This might sound a bit spooky but you can actually clone anyone's voice or face with the current state of technology. Lyrebird is a new tool you can actually try. With it you can make a digital copy of your voice and then basically type any text which will be read with your style of voice, accent, etc. Imagine having this feature in your ATS which will automatically notify your candidate a day before the interview with a telephone call where your clone reminds him of the interview and wishes good luck. Adobe is creating software called VOCO with a similar feature.
Another software FakeApp can actually apply someone's face on the body of someone else using deep learning methodology. Look how realistically you can transform Angela Merkel into Donald Trump.
So these were the sexy new tech things. The problem is that the focus on these things which are often still somewhere in the clouds without a real functional use-case in recruitment can mislead you from your main path as a sourcer or recruiter. The second factor is that these tools must be usually implemented into your recruitment processes by software engineers.
As a recruitment entrepreneur and competitive sourcer, I believe that firstly, you have to set a solid base consisting of your daily recruitment activities and habits. Then you might add in some applications of modern technologies on top and get a much bigger benefit from that. This is how I believe a highly competitive sourcer should do it.
My 5 rules to be a highly competitive sourcer.
1) Be exhaustive with your searches
Working on the market with the lowest unemployment rate (it's the case of the Czech Republic) will teach you one thing: you need to be very thorough and find all candidates! This concept can give you an edge if you're in other markets too. If you are looking for e.g. Logistics Manager in Munich, I want to find all potential candidates. Not just some of them. Finding all of them increases my chances to fill the position exponentially because the deeper and deeper you dig into the "matrix", the more you are uncovering profiles which have been rarely found by someone else and those people receive definitely less job offers than the people you find in the first level.
What does it mean to be exhaustive? LinkedIn is already an industry standard and for us it is still 50-60% source of hires so let's take a LinkedIn basic profile for this demonstration.
All of you would probably do something like this and use Industry field to target this search.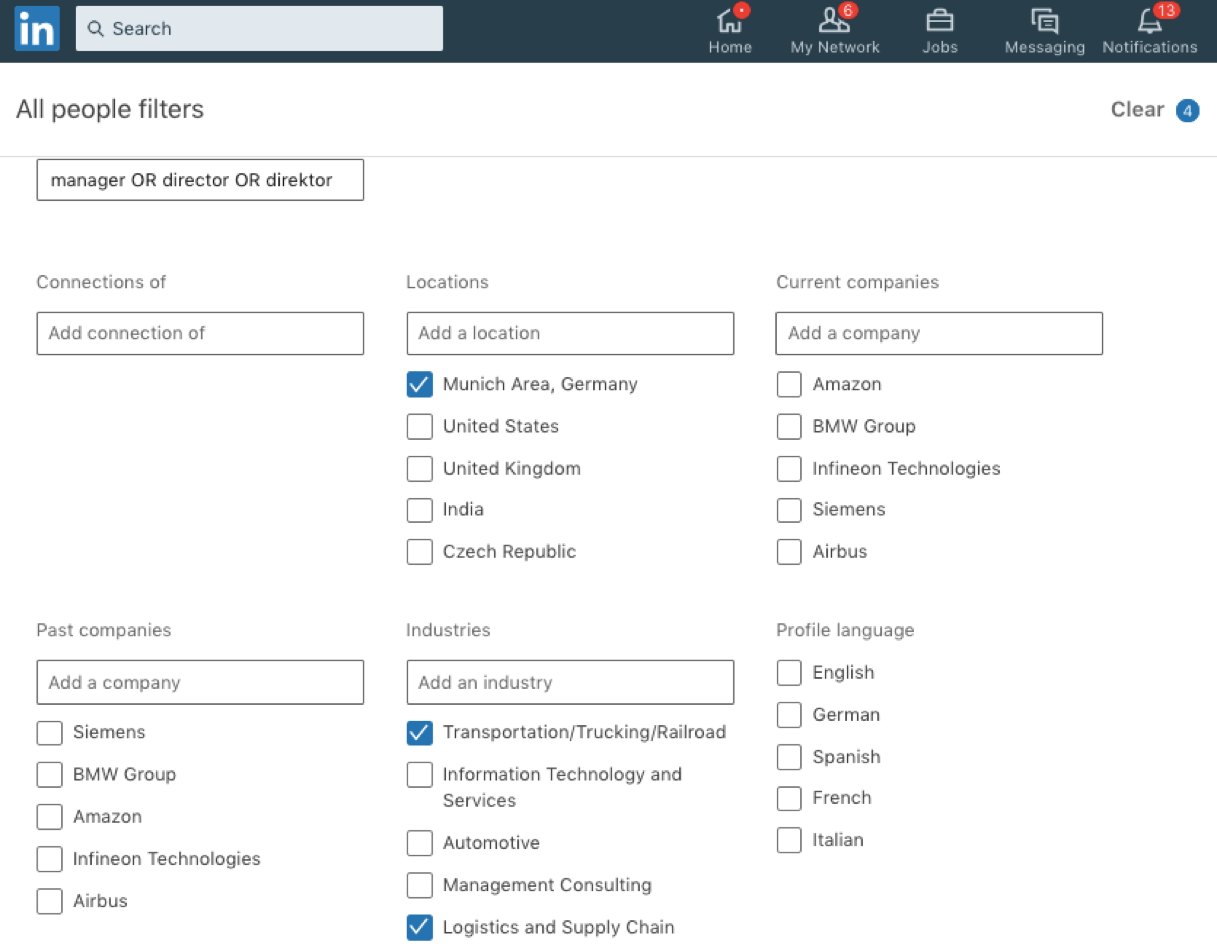 Definitely good results but most definitely we didn't get all possible Logistics Managers in Munich area. We basically got what any other average recruiter gets. This doesn't put us ahead of other recruiters statistically.
Now we apply the fact that the quality of LinkedIn data is not the same for all users. We can realistically assume that there might be some Logistic Manager working at Mercedes-Benz. Would this person put Logistics or Automotive as an industry on her profile? Probably both are possible.
To include this scenario into our results, we need to reflect the industry not by using the Industry field but by using Keywords where we put something like:
Keywords:
logistics OR logistic OR "supply chain" OR freight OR transportation OR warehouse OR warehousing
Title:
manager OR director OR direktor
Location:
Munich Area
We might also use the names of logistics companies to target our desired group of people. You can actually create the list of logistics companies on LinkedIn using the list from the filter Current companies from Search #1.
In Germany the search could look as follows.
Company:
DHL OR DPD OR HOPI OR DASCHER OR "DB SCHENKER"
Title:
manager OR director OR direktor
Location:
Munich Area
In some cases, it might be relevant to use schools. I found that there is Kuehne Logistics University in Germany. What are the chances that managers graduated from this university are in Logistics?
School:
Kuehne Logistics University
Title:
manager OR director OR direktor
Location:
Munich Area
Search #5
You can also do a very relevant search using LinkedIn groups. Unfortunately, the searching using groups is very limited with the basic LinkedIn profile. That's why it is better to use e.g. LinkedIn RPS account where you can search people even in groups you are not a member of. For example, you could find managers who voluntarily connected to logistics groups which makes this search relevant and targeted.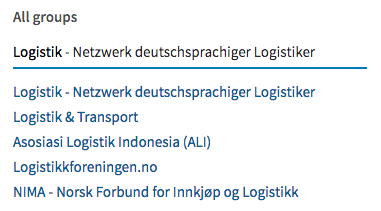 And that's not the end. We used postal code (Munich area) as a targeting filter to filter out Munich people only. But do you believe that all of Munich people really have the Munich postal code filled in on their profiles? Nope. There will be Logistics Managers located in Munich either without a postal code or with a postal code from a different region (maybe the postal code from their last job that they didn't change).
If you want to know more about exhaustive searching, check the so-called LinkedIn Onion Search.
Note: To be really exhaustive on LinkedIn, use LinkedIn Recruiter Lite, LinkedIn RPS or LinkedIn Recruiter account. And don't use search aggregators where you experience data loss.
2) Be efficient
You might be contacting hundreds of people on an everyday basis which means that saving even a little bit of time searching for one single profile can result in significant time savings in the long run.
As an example I would mention two plugins which can make your daily sourcing routine more time-efficient and, honestly, even less boring.
The first tool is a brand new automation plugin Peoplecamp by Ivan Stojanovic which can help you send personalized LinkedIn invitations or LinkedIn messages.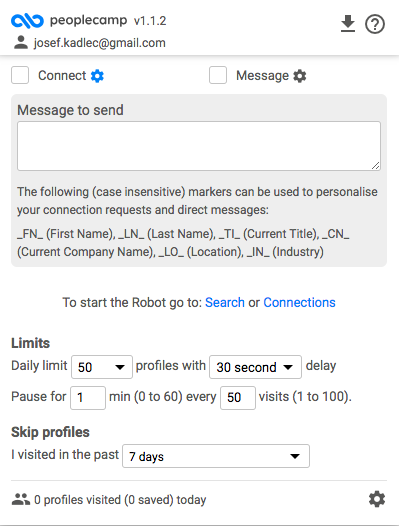 As you can see it supports variables so you can make your invitations and messages personalized by using a candidate's real first name, last name, current title, current company, location and industry.
In this case automation makes sense only when the recipient cannot recognize that is actually automated.
The second plugin is LinkedIn Advanced Sourcer by Datacruit which marks already visited profiles by you on LinkedIn.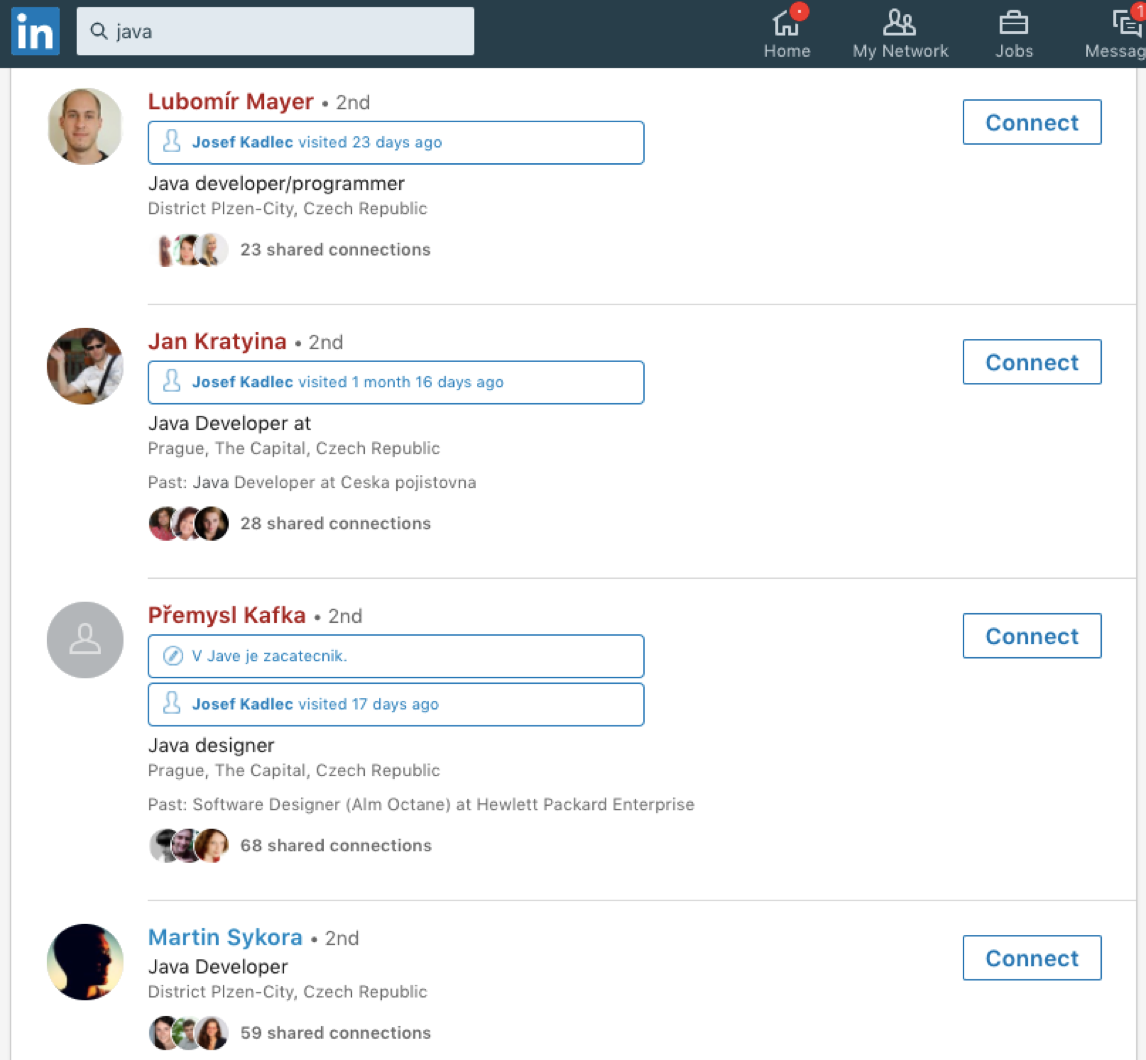 You can also put a secret note to any LinkedIn profile. Imagine that you target one group of candidates, try different searches but experience a huge overlap. With this tool you can easily separate people you already visited from the rest which makes the decision making process if you click on someone's profile or not quite straight forward.
3) Be systematic and disciplined
Long story short. Whether you use a sourcing compatible ATS or MS Excel, you have to track all of your candidates in all stages of the recruitment process. And you need to keep up with the number of daily activities.
Candidate acquisition is a numbers game. Let's see what the average sourcing funnel looks like.
Source: GoodCall & Recruitment Academy 2018
Plus you don't want candidates falling through the cracks just because you forgot to reply to them when they accepted your LinkedIn invitation. You also need to systematically follow-up with people who haven't accepted your LinkedIn invitation in a set period of time.
4) Use extreme candidate engagement
When you recruit a highly demanding and desirable group of candidates such as software engineers you can expect a lower response rate on your outbound messages. In the outbound sourcing funnel above you can see that our response rate is 34% which is kind of a recruitment standard throughout various geographic regions and industries.
To lift this number up you need to use something different which breaks the recruitment monotony. Apart from myself, at least two other guys (Mark Lundgren and Bas Westland) presented or described that they use what I call video sourcing at Sourcing Summit Germany.
Let's speak about unorthodox usage of video for outbound sourcing. There are more formats you can use to approach including so-called video job descriptions where you put your hiring needs and role profile necessities on camera and send this to your candidates instead of the regular job description.
Or it can be a direct individual video invitation where I would like to pinpoint one tool in particular. It is a Google Chrome extension called Loom. With this tool you can create a video with two clicks of a button, embed it into the body of an email or generate a link to the video and send it to the targeted candidate. Your candidate sees something like this.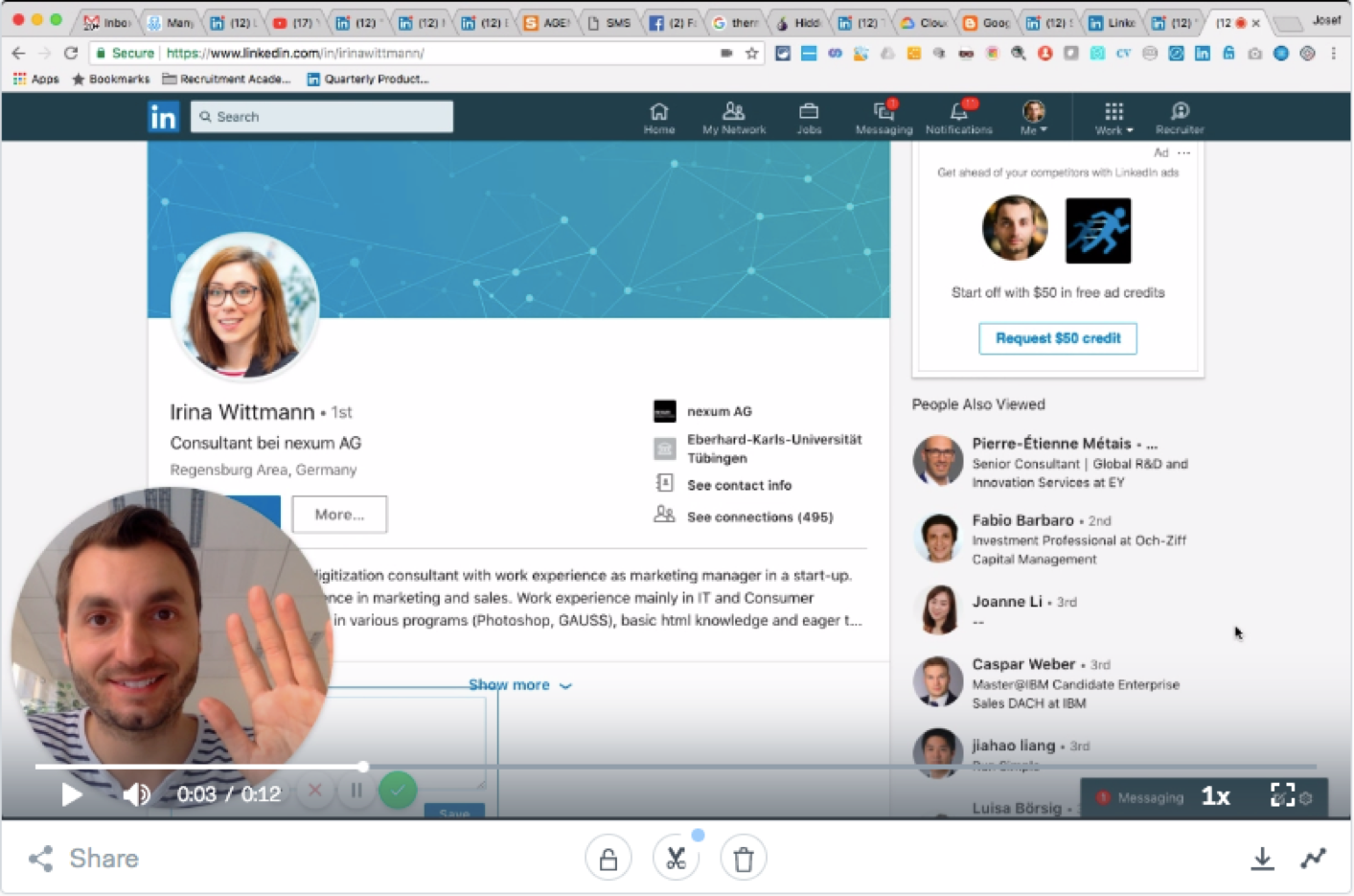 Who wouldn't open a video with your LinkedIn profile in it, right? The beauty of this is that when the recipient finishes with the video, you get a notified and can follow-up right away.
Vidiyard also supports one neat tool for personalized videos where you can automate embedding elements which are unique for the recipients such as name, email, etc. Which means you can create hundreds of personalized videos in a minute.
With this approach we've experienced a response rate boost up to 100% even for people in software development.
5) Evolve or exit();
Tech savviness is obviously crucial for modern recruiters and talent sourcers. That is also why I started to call this discipline Recruitment Engineering. Unlike soft-skill recruitment competencies such as interviewing skills, this is a very volatile environment where continuous learning and development is necessary.
You have to innovate and stay up-to-day to remain competitive in this field. I very much recommend visiting not only sourcing conferences such as Sourcing Summit but conferences which are completely out of this focus such as data retrieval conferences, marketing conferences and tech conferences. This will open our mindset and create a potential that you can come up with something new that puts you ahead of your competition.
Stay up to date with recruitment resources such as Recruiting Brainfood weekly digest by Hung Lee, Social Talent blog or our HIRECONOMICS (blog, vlog).
Follow me (LI, FB, IG, TW) for more updates on this topic. Thanks!
Happy hunting!: )
--josé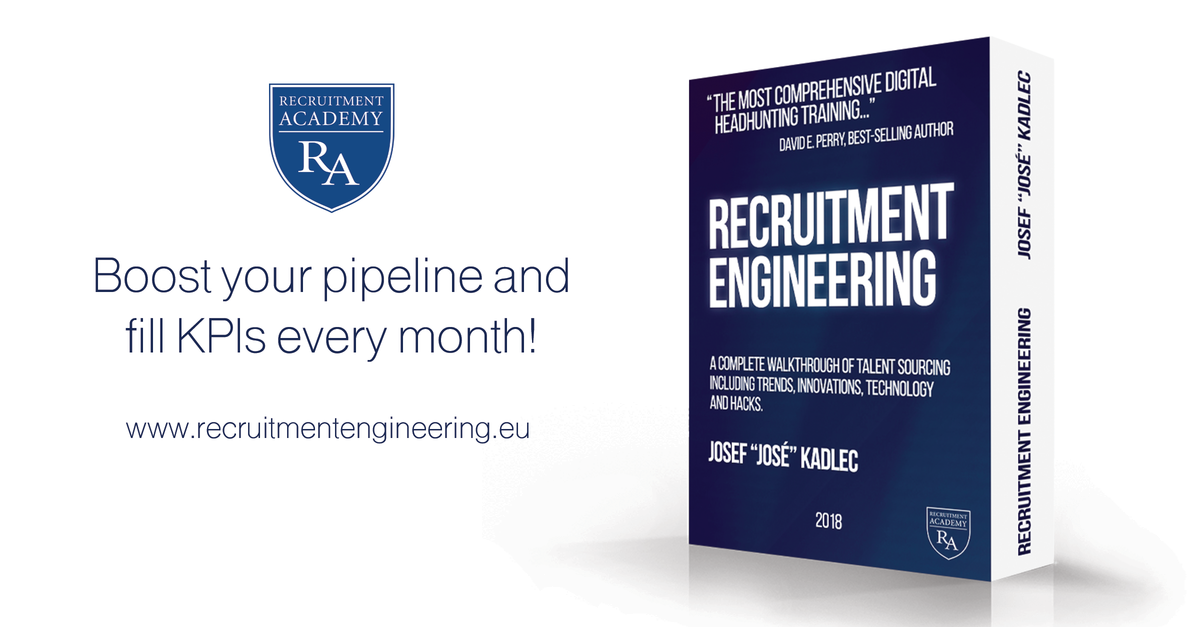 See more at: www.recruitmentengineering.eu