This is a free chapter from the recently published book Covid-Proof Virtual Trainer.
When you say webinar, people usually think of webinar software right away. You can often use technologies that you have already been using for a long time to host a webinar.
Facebook Live
Facebook Live is a high-quality live broadcasting service that has just been innovated in the form of Facebook Live Producer. You can either start broadcasting immediately via PC or mobile phone (or tablet) without any software, or use the so-called RTMP encoder (see below), if you need to e.g. share your desktop, connect multiple remote participants, broadcast from multiple cameras or use
the green / blue screen effect. However, if you simply want to broadcast a webinar where you just talk in front of a whiteboard or you're doing an interview, this native function of Facebook is enough for you. In addition, Facebook Live is completely free.
You can choose whether you want to make the video stream public, available only to your Facebook friends (you can specify exceptions), or stream it to a Facebook group. If you broadcast as a Facebook page, the video is always public.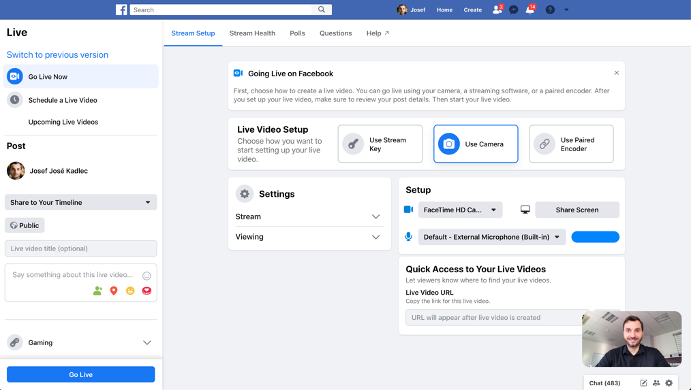 You can communicate with the audience through a discussion. Facebook Live can also be scheduled with a fixed date and time for the future. You can share your Facebook profile URL as a link to the upcoming webinar. With Facebook Premiere it is possible to make live videos on a Facebook page, but only from a recording, and planned in advance.
YouTube Live
YouTube Live is another widely used live platform. In principle, it works the same as Facebook Live. The only limitation is that if you want to make a live video from your mobile phone, you need at least 1,000 subscribers. If you don't have them, you can still make a live video from your PC (via webcam or external camera) or via RTMP encoder (see below), if you want to perform complex tasks such as sharing your desktop, presentation or using multiple cameras. When you upload a live YouTube video, the video is automatically saved to your profile. However, this may not work for videos longer than 4 hours.
If you do a private webinar (e. g. paid), you can create an unlisted live video and send a unique link to the participants.
Live video can also be scheduled using YouTube Premiere, similar to Facebook Live. You can also communicate with participants through a live discussion.
LinkedIn Live
In order to broadcast live videos on LinkedIn, you have to send a request and wait for approval. You can request it for your personal profile or your company's LinkedIn page. So far, I only had my personal profile approved for LinkedIn Live. You can find out whether you have already been approved for LinkedIn Live thanks to an indicator that appears on the main LinkedIn page.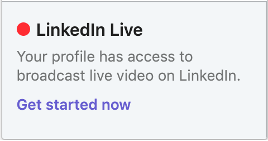 To broadcast live videos on LinkedIn, you need to use an RTMP encoder (described later) – which means you cannot stream directly from your phone or web camera. I use StreamYard with the effect of a set up green screen and Restream.
LinkedIn further recommends e.g. Socialive, Switcher Studio, Wirecast, StreamYard, Easy Live and Brandlive Producer. Most of these tools are paid but have a freemium plan or a trial version.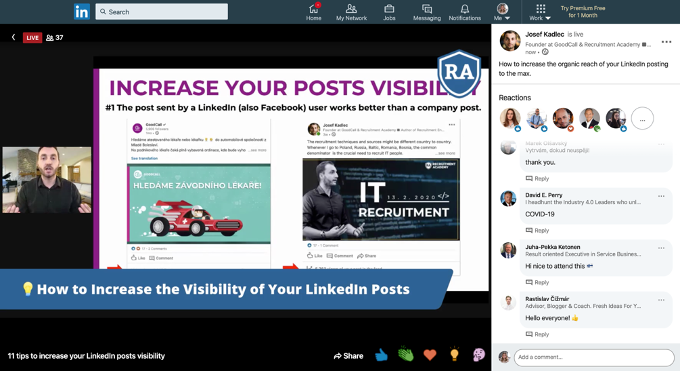 You can only create public videos (or choose whether to display the video to everyone, or only to your LinkedIn connection), so you can't exactly use it for paid or private webinars. You can use the comments section to communicate with your viewers.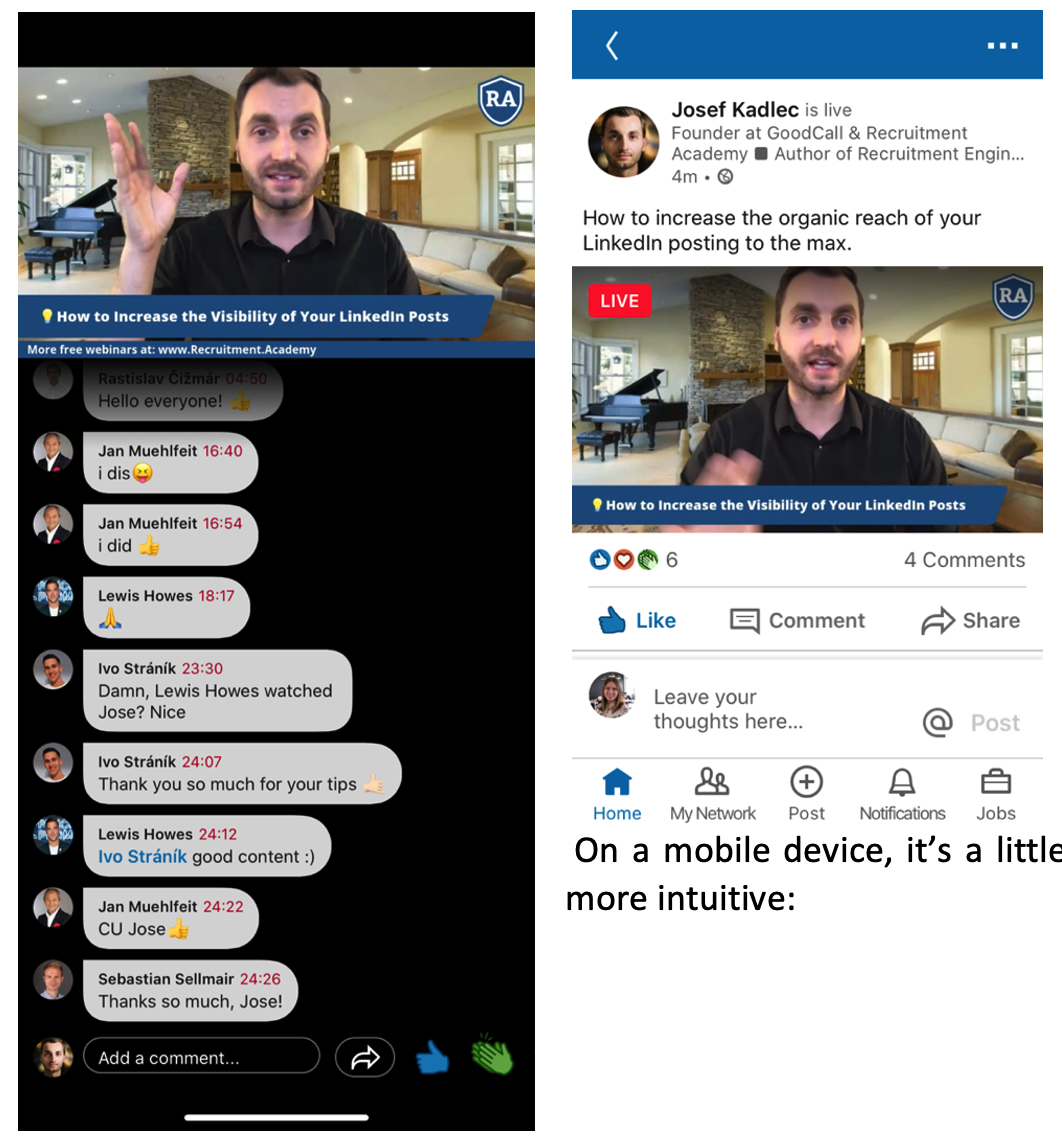 Twitter Live
You can also make live videos on Twitter - only public but you can easily add other speakers if you need, for example, two speakers to talk at the same time. Twitter recently bought the first ever mobile streaming service Periscope, so they are somehow connected.
Twitter Live can only run natively from a mobile phone. It's not possible to broadcast via desktop or RTMP encoders.
Again, you can use your Twitter profile URL as a link to an upcoming webinar.
Instagram Live
Instagram Live is a very simple way to broadcast live publicly (you can't make private videos). In addition, Instagram Live uses the Stories format, which is mostly a portrait-oriented video.
Instagram Live can also only run natively from a mobile phone. It's not possible to broadcast via desktop or RTMP encoders.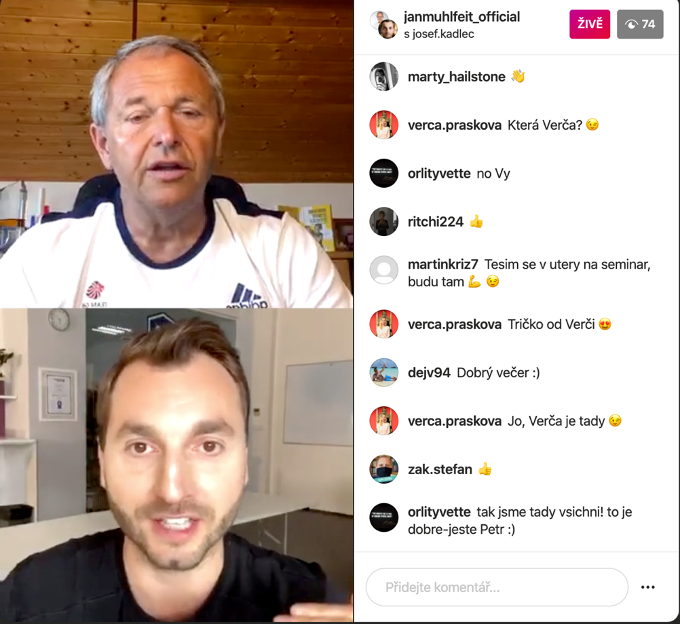 A link to the Instagram profile from which it will be broadcast can also be used as a link to a webinar.
Vimeo Live
Vimeo is like YouTube for professionals. It also has a paid live streaming service (starting at $50 per month) that could be used for webinars, especially if you want a solution where you can customize the logo and colors of the page on which the live video is broadcast. Then you can also insert an overlay logo into the live video and other graphics such as descriptive banners, all without the use of an RTMP encoder.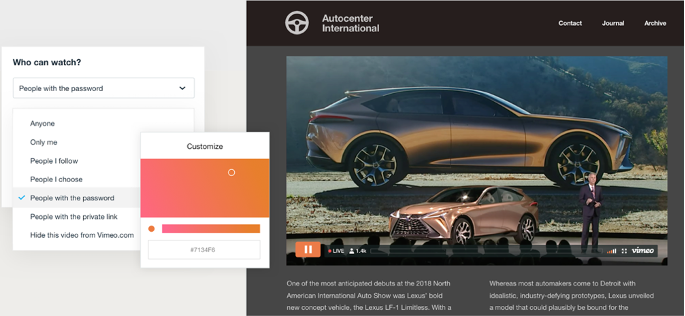 Security settings such as access to live video via a password are of course included. In addition, when you download their Studio 6 for free (see picture below), you get a professional broadcasting software, where you can combine multiple cameras and broadcast to multiple channels such as YouTube, Facebook, Twitch, and Periscope.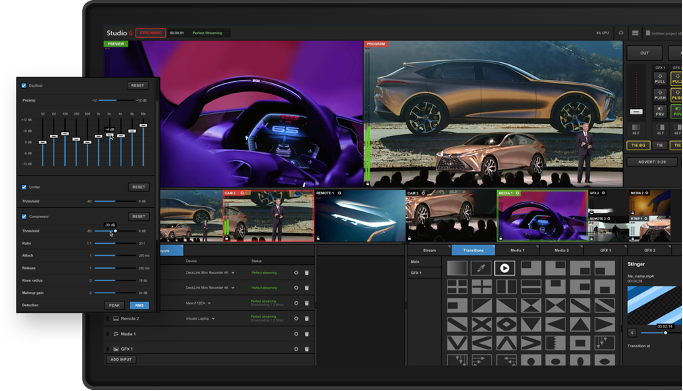 Twitch
Twitch is literally a platform for live videos. It is mostly used by computer game and e-sport players who broadcast how they play. However, it can also be easily used for webinar purposes. On Twitch you will stream primarily via one of the RTMP encoders.
What is an RTMP encoder?
In a nutshell, it is a recording software that sends video and audio to supported live platforms.
Why could you find it useful?
Because, for example, native Facebook Live, YouTube Live or LinkedIn Live do not always offer the possibility to redesign the layout of the broadcast, insert graphics, make a split screen from multiple cameras, share desktop, etc.
Note: Until recently, desktop sharing was possible with Facebook when broadcasting from desktop, but the function was removed.
If you do a webinar where you're just speaking, or standing at a whiteboard or flipchart, then it will be enough for you.
But if not, you need a software - RTMP encoder. Another reason may be that you are broadcasting a webinar with multiple cameras (having multiple speakers from different locations) or using a green screen, so you must render the image before you broadcast it.
The main provider of RTMP encoders, which is sponsored by Facebook, is OBS Studio, and it's free. Other famous players in this category are Wirecast, Restream.io, Vimeo Studio 6, Vmix, Xsplit, and many others. These are mostly paid. Some typical webinar software such as GoToMeeting can also serve as an RTMP encoder.
For example, if you want to connect someone to OBS Studio remotely via Zoom or Skype and broadcast it to Facebook Live, that is also possible.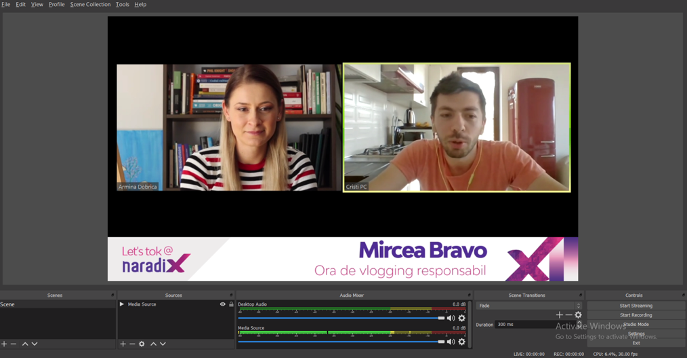 Some cameras can also serve as an RTMP encoder, such as Mevo, from which you can automatically stream to Facebook, YouTube, Periscope, Livestream, and any other RTMP source. They are also preparing support for LinkedIn and Twitch. We used this 150-degree camera during a live broadcast from our HR competition Recruitment Academy Awards which you can find on our Recruitment Academy Facebook page.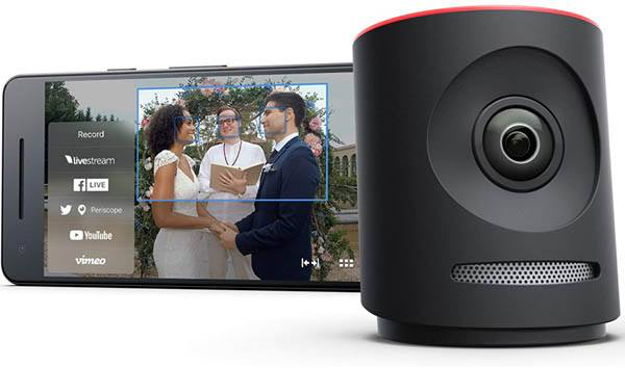 A big advantage of these live solutions from Facebook, YouTube, LinkedIn, Twitter, Instagram, Vimeo and others is that there is no limit to the number of people connected - you can broadcast to thousands of viewers - you would pay quite an amount for that with most of the webinar software applications.
On the other hand, these solutions generally have no support for webinar registrations, notifications, etc. You have to solve this on your own just like when you want to do a webinar where you need to share your desktop to browse a presentation or demonstrate something in a web browser. In addition, some solutions do not easily allow you to add more speakers if you use them natively without an RTMP encoder.
Some cameras can also be controlled remotely via the Internet - rotating the shot, zooming, etc.
Maybe you also want to broadcast directly to several live channels at the same time - for example, you have a company Facebook Live, company YouTube Live, private YouTube Live and private LinkedIn Live. This brings us to multi-streaming.
What is multi-streaming?
Since there is a wider range of live streaming services today, and you may want to use the power not only of your company profile, e.g. on Facebook, but also of your personal Facebook account, you will simply want to broadcast to multiple channels at the same time.
You might want to cover:
Facebook Live – company page
Facebook Live – private personal account
YouTube Live
Instagram Live
LinkedIn Live
Of course, if possible, you can broadcast from multiple mobile phones and/or computers. We created a special selfie stick with the working name Mr. Hollywood, in which you can install up to 3 mobile phones, that are connected to a single high-quality audio input via the Zoom H1N handy recorder (not to be confused with the Zoom.us service for meetings and webinars), and the solution is additionally supported by an LED strip for better lighting of the person streaming.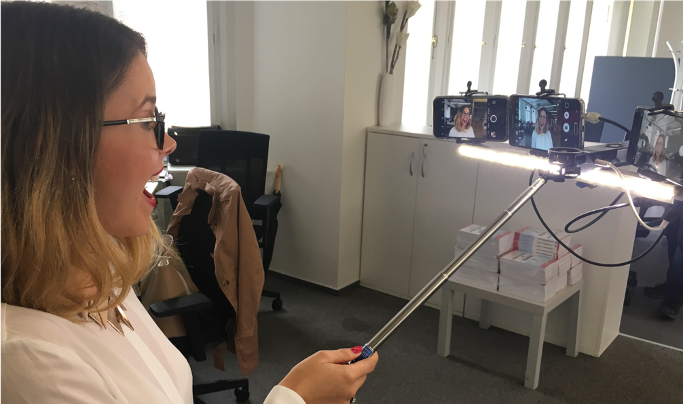 Or, you can use a multi-streaming service like StreamYard, which allows you to broadcast through multiple inputs to multiple supported live channels.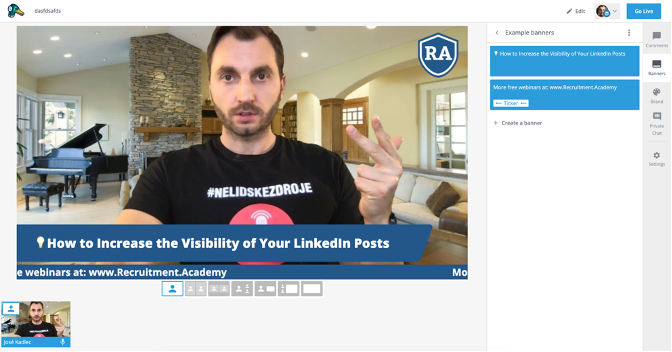 But not quite to all of them. Some channels don't support RTMP transmission, such as Instagram, meaning that for per one Instagram account you still need to dedicate one mobile phone. It's even better in terms of the broadcast format, which on Instagram Live is mostly portrait oriented.
Alternatives to StreamYard are, for example: Castr, Splitstream, Socialive, Restream, Easy Live and Switcher Studio.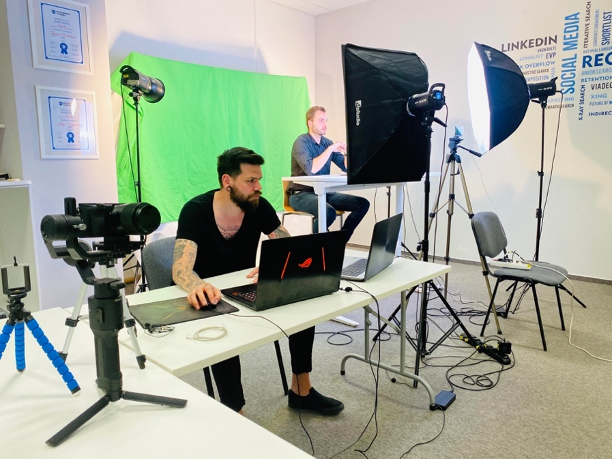 Download the full book

Covid-Proof Virtual Trainer

as an e-book or let us send it to you as a paperback for free (pay shipping only).
Follow me (LI,

TW,

FB,

IG) for more updates.
--josé